Requirements:
Windows 9x/Me/NT/2000
200 MMX
32 MB RAM
10 MB HDD


Tiger II Tools for Windows
Download version 1.1.2: PL / EN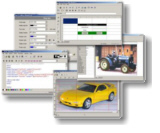 TigerII Tools is a HTML toolbox. You will find here advanced wizards that will help to create several parts of your website eg. complex tables and forms, galleries. You will also find these tools usefull while creating image maps and cutting images into parts. In addition TigerII MiniPad HTML Editor is added to package.


TigerII Table & Form Wizard

This tool allows you creating complex table or form without using HTML language.


Max table dimmesions 99999x99999 pixels,
Max 100 columns and 999 rows,
Ability to create table from template,
Ability to save table for future reedition,
Exports HTML description of the created table to clipboard or to HTML document,
Ability to insert form fields into table cells,
Available tools:
Cells span and divide,
Insert Row and columns,
Space equally rows and columns,
Cell alignment,
Cell background and text color,
and other,
TigerII Visual Map Wizard

This tool is an advanced image mapper that allows creating areas in every shape that you can imagine and to reedit existing maps.

Short description:
Allows creating a new map for selected image,
Allows editing existing map directly from HTML document,
Allows creating new map for existing image in selected HTML document,
Exports created map to clipboard and saves to selected HTML document,
Allows assigning of JavaScript events to defined areas,
Supports JPEG, GIF, PNG, BMP graphics format,

Available tools:
Drawing areas : rectangle, circle, polyline,
Area remover,
Area cloner,
Handles editor (allows adding and removing handles)
Drawing area type converter (allows converting rectangle and circle to polyline)
Locks areas to prevenr accidental moving or resizing of area,
Zoom 1:3, 1:2, 2:1, 3:1
and other,
TigerII Image Cutter

This tool is useful when you want to split big image into smaller parts.

Short description:
Unlimited split quantity,
Accepts BMP, JPEG, GIF, PNG,
Saves images into BMP, PNG or JPEG file,
Creates HTML Table with created images,

Available tools:
Horizontal and vertical spliting line,
Line remover,
Line mover,
and other,
TigerII Gallery Wizard

In several steps you can easily create a gallery (with navigation mechanism) form selected images.


Short description:
Unlimited quantity of images,
Creates thumbnails,
Scales images,
Adds navigation mechanism.
Supports JPEG, GIF, PNG, BMP graphics format,
TigerII Color picker

Color picker is useful to choose colors to your website layout.


Short description:
Color edition in RGB and CMYK modes,
Captures colors directly from the screen,
Imports and exports palettes from and to Paint Shop Pro,
Exports color schemes to HTML document and Style definition (CSS),
Copies edited color to the clipboard in selected format (HTML, JAVA, VC, DELPHI etc.),
Recognizes pasted color format,
TigerII MiniPad

TigerII MiniPad is simple text - editor that allows you to make quick changes in text files without starting big editor application. It can be used insted of standard Windows Notepad.

Adventages:
Syntax highlighting HTML, PHP, PERL, PASCAL,
Printout preview,
Multilevel UNDO,
Regular expresions,
handles files bigger then 64kb,
| | |
| --- | --- |
| License | $19.00 |